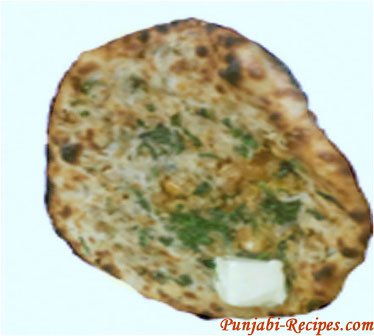 Text size
Print This Page
Send by email
Amrtisari Paneer Kulcha – Easy make at home recipe
Ingredients
Maida (All Purpose Floor) 2 cups  ( do not use the self raising variety as those contain baking soda and powder and are use for cakes )
Dahi ( Yoghurt) 1 tablespoon
Baking Soda 1/4 teaspoon
Sugar 1 teaspoon
Salt 1/2 teaspoon
Milk 1/2 cup
Ingredients for Paneer Stuffing
Paneer (India Cottage Cheese)Â Â  200 grams Grate it or mash it
Red Chilli Powder 1/2 teaspoon
Chat Masala 1/2 tea spoon
Finely chopped green coriander
Roasted Jeera Powder 1 teaspoon
Salt as per taste
Preparation
1. Take a mixing bowl.
2. Add maida in the bowl.
3. Now add Salt
4. Add Yoghurt
5. Add Cooking Soda
6. Add Sugar
7. Add milk.
8. Knead into a soft dough (Add more milk if needed)
9. Cover it with a damp cloth and leave it for 10 minutes
10. Take another mixing bowl.
11. Add the Paneer in it and mash it by hand
12. Add Salt
13. Add some Red Chilli powder
14. Add Chat Masala
15. Add the Roasted Jeera Powder.( Dry Roast 1 teaspoon of Cumin Seeds on a fry pan and once the colour starts changing remove it from the heat. Slightly crush it with hand once cooled)
16. Mix well with hand.
17. Make small balls of the dough which you prepared earlier ( in Step 9). Use some dry floor if the dough tends to stick to your fingers..
19. Take a dough ball and spread it slightly.
20. Now add  put some paneer mixture on it.
21. Now pick the sides of the flattened dough  and close together. so that the paneer stuffing is enclosed in it.
22. Now roll this into a roti. Use your hands or a rolling pin.
23. If you are using an Oven then preheat the oven to the maximum temperature.Avoid the fan forced option as it will dry it out the kulcha like a biscuit …
24. Put the rolled Kulcha ( step 22) on a non stick baking tray. ( lightly grease it with a smear of oil)
25. Put it in the oven ( keep it as near as possible to the heating element or the fire) , A grill is a better option as it provides more concentrated heat rather than an oven. ( If you have a fan forced option in your oven then switch it off otherwise it will turn out like a crisp biscuit.)
26. In about 4 to 5 minutes it will be done, if needed cook it on the other side
27. If you do not have the oven then cook it on a Tava (Griddle Pan or a fry pan) on maximum heat.
28. Once done on both sides put it directly on the flame so that slightly burnt marks appear (if you do not have a gas flame stove then omit this step)
29. Smear it with butter
30. Eat with a blob of soft butter and / or Dahi ( Yoghurt)
Note: Add some variations by using some of the following before cooking it.
If you wish you can smear some red chilly powder on the top of the kulcha ( after step 22)
You can also smear some crushed or dried garlic flakes on the top.( after step 22)
You can also smear some dried Kasoori Methi leaves on the top. ( after step 22)
Summary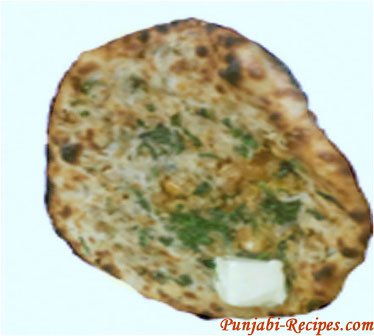 Recipe Name
Published On
Preparation Time
Average Rating





Based on 5 Review(s)