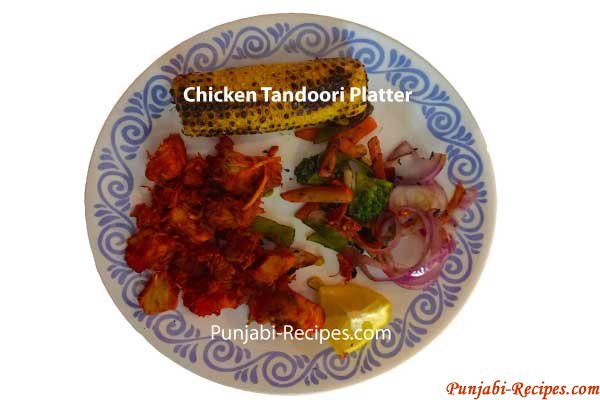 Text size
Print This Page
Send by email
Make a quick and simple meal with this Tawa Fried Chicken Platter with loads of veges on the side. This is a quick and simple everyday recipe which you can make without tandoor or oven. It is  a Tawa Fried recipe which can be made in a fry pan.
Ingredients
Diced Chicken 1 Kilo
Corn Cobs 4
2 Onions cut into rings
few florets of Broccoli
few florets of Cauliflower
1 diced carrot
100 grams green beans cut into small lengths
3 teaspoons Tandoori Powder ( if you can not get the tandoori powder then use  – 1 teaspoon of Chat Masala, 1/2 teaspoon of red chilli powder, 1/4 teaspoon of jeera powder, 1/4 teaspoon of Amchur Powder(Mango Powder))
2 Limes cut into small wedges
Salt as per taste
Red chilli powder 1/2 tea spoon
Garlic Paste 1 tea spoon
Ginger Paste 1 tablespoon
Jeera Powder  1/2 teaspoon
cooking oil 1 cup
1 finely chopped green chilli
2 tablespoon finely chopped green coriander for garnish
Preparation
As this is a quick recipe therefore we are not going to marinate it for a long time.
Take the diced chicken in a mixing bowl.
Add  ginger and garlic paste
Add the Tandoori Powder ( or the other ingredients in lieu of that as listed in the ingredients)
Add some lime juice
Mix well and keep aside.
Take a fry pan and put it on medium heat
Add 2 tablespoons of oil
Add the vegetables and stir fry them them for 5 minutes
Take them out
Now add 2 tablespoons of oil and add the onion rings
Stir fry them till they get slightly burnt colour
Take them out.
Now add 4 tablespoons of oil in the fry pan.
Once the oil is hot add the diced chicken
Stir the chicken and cook it for 5 minutes.
Now you can add some water and cover the fry pan with a cover
Reduce the flame.
Let the chicken cook for another 5 minutes.
Remove the cover and put the flame to high
Add some more tandoori powder
Add some chilli powder.
Add some lime juice
Add salt as per taste.
Keep on stirring.
Ensure that the chicken has been cooked.
Now cook the corn cobs by cooking them on the flame.
Put the corn cobs, chicken and  stir fried veges on the plate and serve
Sprinkle some chat masala, some chopped green chillies and some finely chopped coriander as garnish.
Summary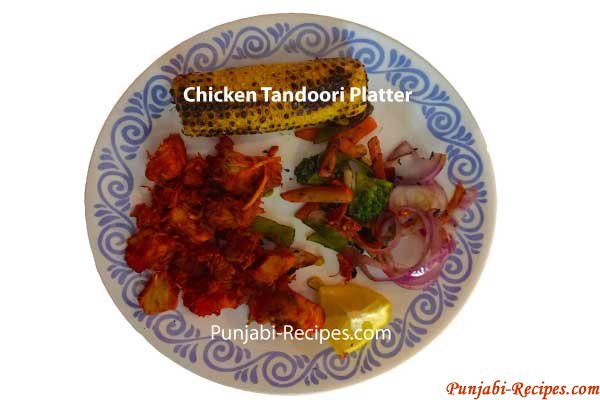 Recipe Name
Tawa Fried Chicken Platter
Published On
Preparation Time
Cook Time
Average Rating





Based on 3 Review(s)