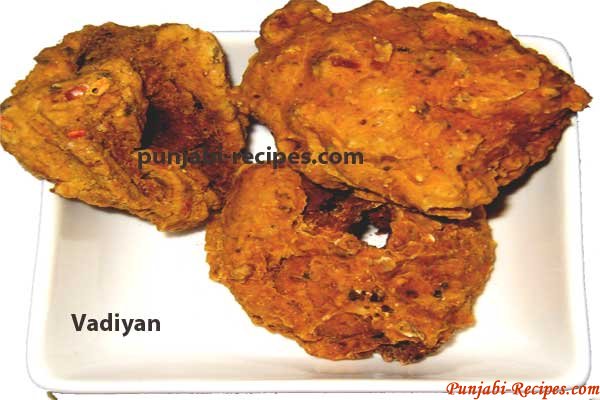 Text size
Print This Page
Send by email
Punjabi Wadiyan (Wadi) is made from Urad Dal, Petha and bit if spices, though this is not a dish on its own but it is a ingredient which is used in various other dishes, like Allo Vadi, Dal Vadi etc. The art of making Vadiayan is being forgotten as we tend to buy them from market. I remember making them with my mother and used to be fun grinding the stuff and then making small blobs and put them on an old white bed sheet for drying in the sun.
Ingredients
500 gm. Urad Dal or black gram dal, skinless (without Chilka(skin))
375 gm. petha or ash gourd.(If you can not get Petha then use same amount of cauliflower or Zuchini pieces
100 grams of Ginger (instead you can also use 1.5 teaspoons of Ginger Powder )
10 Finely chopped Green Chillies
1 Teaspoon Black Ilaichi or Black Cardamom sees ( coardsely grounded)
1 Tablespoon Redh Chilli Powder (adjust according to your taste)
2 tablespoons Kali Mirch or Black Pepper coarsely grounded
2 Tablespoons Saunf (Fennel Seeds)
10 Laung or Cloves(Coarsely grounded)
1 Teaspoon mace powder
2 Tablespoons Jeera(Cumin Seeds)
2 pinches of nutmeg, freshly grated
1 teaspoon of asofetida or hing powder
1/2 teaspoon of. cinnamon powder
Finely Chopped coriander leaves 1 Cup
Preparation
Coarsely grind urad dal in a dry Grinder. (Do it in small batches to go easy on your grinder motor). It has to be coarse.
Soak in enough water to cover 1/2 inch above the dal and leave for a couple of hours. It will absorb water and become like a thick batter.
Add the asafoetida powder in and mix well.
Leave overnight in a warm place and the mixture will rise up.
Clean, wash and grate the petha( or cauliflower or Zucchini) and squeeze the water out and keep aside.
Grind ginger, green chillies and coriander leaves, all together, in a food processor.
Take a big mixing bowl and add the Dal in.
Add all the other ingredients.
Beat vigorously and mix well, add water as needed to fix the consistency to a dropping consistency.
Take 2 trays and put the greased paper or baking paper in the tray .
Now put small blobs the size of Pingpong Balls on the tray.
Leave them in the hot sun, until dry.
You might have to put them in sun regularly for 2-3 days to ensure that they are completely dry (Ensure that the top as well as the bottom is completely dried.)
Store in airtight containers or plastic bags. Freezer is good, if you have a large one.
Note: They are not edible straight away and they are used as an ingredient in a curry. You can cook up a dish with Peas and Wadiyan , once you have the Wadis completely dried.
Normaly one or two Wadis are broken into small pieces and sauteed with some oil and then add the spices and peas and cook like a curry.
Summary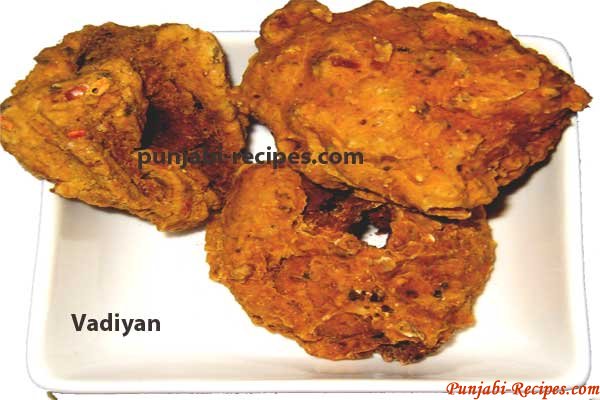 Recipe Name
Punjabi Vadiyan or Badiyan
Published On
Preparation Time
Cook Time
Total Time
Average Rating





Based on 7 Review(s)