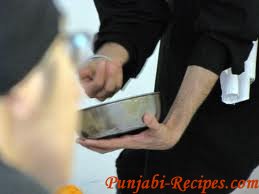 Text size
Print This Page
Send by email
Karah Parshad is the sacred pudding which is served in Gurudwara to all. It does not contain any garnishing. Holy Japji Sahib Bani is recited while preparing it in Gurudwara or at home.
Ingredients
It is best to measure it by cups as it is easy to scale up if you are making it for more people.
This recipe will have 10 to 15 servings ( 1 serving is one handful around 2 tablespoons). If you want to make it for more people then scale it up accordingly.
The rule of thumb ratio is 1 unit of Ghee, 1 unit of Atta and 1 unit of Sugar and 3 units of water, however you can reduce the quantity of Ghee.
Desi Ghee or Pure Ghee 1 cup (Now take a tablespoon out from this full cup and keep it aside as reserve)
Whole Grain Flour (Atta) 1 Cup
Sugar 1 Cup
Water 3 Cups
Preparation
Put a heavy bottomed pan on medium heat
Add Ghee ( Save 1 tablespoon of Ghee as explained above)
Once Ghee has melted then add all the Atta.
Stir non-stop continuously.
After about 5 minutes or so you would start getting the smell of roasted flour.
The colour will change to deep golden colour.
Keep on stirring non stop.
Take a water jug and put 3 cups of water in it and add 1 Cup of sugar.
Boil it in microwave or use a separate pan to boil this water.
Once the atta and ghee mixture is done (you would see that the Ghee starts leaving the sides)
Add this boiling syrup in it be very careful as the hot water starts spurting out from the pan.
Now keep on stirring vigorously and the water will evaporate and the mixture will tend to thicken up.
At one stage during constant stirring you would find that the whole mixture start forming one big mass around your stirrer and starts sliding easily instead of sticking to the pan.
This indicates that the water has evaporated completely.
Karah Parshad is now ready.
Take it off the heat
Notes:

If you use very less Ghee then it will feel very dry

If you use too much Ghee then you would see that your  mixture is sitting in a puddle of Ghee

If you are using 100 grams of Atta, 100 Grams of Sugar then use around 80 grams of Ghee. This ratio tends to give a Parshad which is not too dry and not to wet( with Ghee).

You can also use slightly coarse Atta  (like Bhakri Atta which is used in Gujarat ) – Mix 50% normal Atta and 50% Bhakri Atta to get a Danedar Parshad like that served in Gurudwaras in India.

It is best to use a round bottomed Karahi(Wok)Â  for this. If not then use a pan which is deep so that when you put the boiling sugar syrup then it does not spurt around.
Summary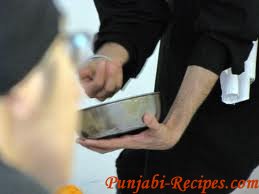 Recipe Name
Published On
Preparation Time
Cook Time
Total Time
Average Rating





Based on 3 Review(s)