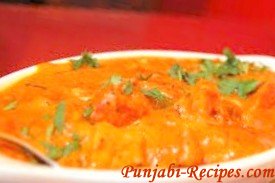 Text size
Print This Page
Send by email
Butter Chicken has many variations, some are creamy, some are sweet and some have mango flavour in it. Each restaurant will serve  it in different style. The colours vary from pale yellow to orange. Some will serve it with a cube of Butter on the top, after all it is butter chicken. Has to contain the chicken and butter for sure !
Ingredients
Chicken Breast Fillet 1 kg  (make bite sized cubes)

3 finely chopped onions
2 finely chopped tomotoes
1 teaspoon Garlic Paste
1 tablespoon Ginger Paste
1/2 cup almonds paste ( blanche the almonds and grind it with some water to make a smooth creamy paste)
1/2 cup fresh cream
50 grams butter
 1 tablespoon finely chopped coriander
2 Tej Pattas or Bay Leaves
1 Cinnamon stick
1/4 teaspoon of Green Cardamom Seed Powder
4 cloves
4 Tablespoons Cooking Oil
1 teaspoon Haldi ( Turmeric) Powder
For Marinade
 2 tablespoons of lime or lemon juice ( use 1 tablespoon of vinegar if  you do not have lime or lemon in your fridge)

1 cup Dahi or Yoghurt

1Â  teaspoon Red chilli Powder

1 teaspoon Jeera Powder or Cumin Seed Powder

1 teaspoon

Kasoori Methi (Fenugreek) leaves dried ground
Preparation
Wash and cut the chicken to small pieces
Put it in a glass mixing bowl.
Add Dahi
Add Red chilli powder, Jeera Powder, Kasoori Methi
Add the lime juice.
Mix the marinade in the chicken thoroughly
Cover the bowl and leave it in the fridge for atleast 4 hours ( overnight if possible)
Now take a heavy bottomed or non stick pan and put it on medium heat
Add the oil.
Add Tej Patta, Cloves, Cinnamon stick in the oil and stir.
Now add the onions and cook till golden brown.
Add the tomatoes
Cook till the oil starts seperating from the mixture.
Add turmeric Powder(The reason to add turmeric powder at the end is that we do not want the haldi to overcook and leave a darker colour )
Add the ginger paste and stir.
Put the heat to high and add the chicken pieces.( without the marinade mixture)
Cook them on high until they turn white on all sides.
Reduce heat to medium and let the chicken cook, you can check it with a fork.
Add the remaining marinade which was left in the mixing bowl.
Let it simmer for few minutes until the gravy and the chicken looks fully cooked.
You might have to add some water to keep the consistency of the gravy to your liking. ( normally butter chicken has lots of gravy)
Add the coriander powder and stir for a minute
Close the heat
Add the almonds paste
Add the fresh cream
Mix well.
While serving add the green coriander on the top.
Don't forget to put the butter while serving( you can omit it if you like)
In the restaurants you sometime gets sweet taste, if you like that you can add bit of sugar or jaggery while cooking the gravy.
Serve it with Naan, Roti or Rice
Summary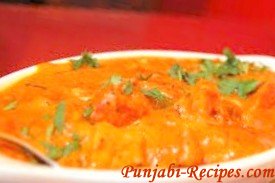 Recipe Name
Butter Chicken or Chicken Makhani
Published On
Preparation Time
Cook Time
Total Time
Average Rating





Based on 3 Review(s)