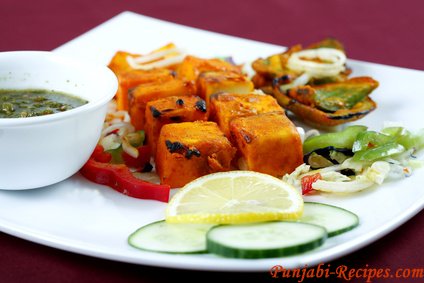 Text size
Print This Page
Send by email
Paneer Tikka. Used as starters in dinner or lunch.
Ingredients
100 grams paneer (cut into 1-inch cubes)
1 Teaspoon Ginger paste
Green chilli paste from 2 green chilies
1 Teaspoon Jeera(Cumin powder)
1/2 Teaspoon Garlic Paste
3/4 Teaspoon salt
1/4 Teaspoon red chili powder
1 capsicum, cut into 1 inch square pieces
Few drops of orange Food color( or Tandoor Paste or Tandoor Powder)
2 tbsp oil
1 tbsp lemon juice
2 Tablespoon Yoghurt (Dahi)
Note that instead of making individual pastes for Ginger, Garlic, Chilli we will do it together in one go.
Preparation
Take a mixing bowl.
Add the Garlic and Ginger, Jeera powder, cut Green Chillies, chilli powder, lime juice and Dahi.
Put it in the wet grinder and make a fine paste.
Add the salt to taste.
Add some drops of the orange colour (or Tandoor Paste or Tandoor Powder). – you can skip this if you do not have these ingredients. They are only to provide colour.
Take the Paneer pieces and smear this paste on all sides.
Leave the paneer for about an hour so that the mixture can dry up a bit.(Leaving overnight is a good idea as it infuses more flavour in Paneer)
Put this paneer in a greased dish and grill for about 10 minutes till it is dry and crisp.
Now take a fry pan and heat 2 tablespoons of oil in it.
Put some diced onion cubes and capsicum pieces and shallow fry them.
Add some marinade paste which you prepared and stir the onions and capsicum for 2 minutes
Sprinkle some salt and stir for few seconds.
Take a plate and put all the cooked paneer pieces and add the cooked capscicum and onions on top.
Sprinkle some chat masala and lime juice on top.
Summary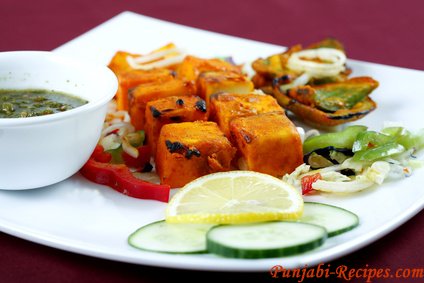 Recipe Name
Published On
Preparation Time
Cook Time
Total Time
Average Rating





Based on 1 Review(s)