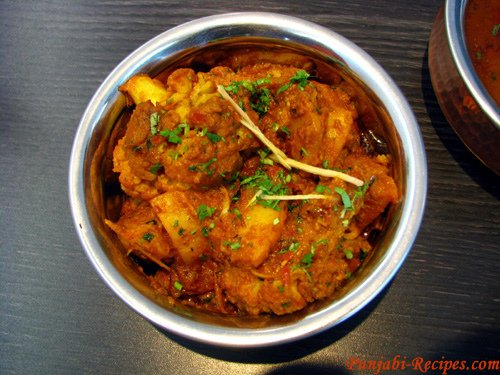 Text size
Print This Page
Send by email
Alloo Gobhi Masala recipe
Ingredients
450g /1lb potatoes,cut into medium chunks.
Oil 3 Tablespoons
1 teaspoon cumin seeds
1 green chilli chopped
450g/1lb cauliflower, broken into florets
1tsp ground coriander
1tsp Jeera (cumin) powder
1/4 tsp chilli powder
1/2tsp ground turmeric
1/2tsp salt.
Finely chopped fresh coriander ( 1/2 cup) for garnishing
Ginger Julienne strips 1 tablespoon
Preparation
Take some oil in a heavy bottomed sauce pan and heat.
Add the potatoes cubes and shallow fry till done.
Now heat oil in the same suace pan.
Ad the jeera (Cumin) seeds and fry till they start crackling.
Add the red chilli powder and stir for a minute.
Add the turmeric powder and stir for a minute.
Add the Gobi pieces (cauliflower florets) and fry .
Stir lightly.
Add the garam masala.
Add Coriander powder
Add cumin ( Jeera) powder
Stir for few minutes, lightly, rapid stirring will break the cauliflower florets.
Add the already fried potatoes cubes.
Add the salt.
Cook for another 5 minutes with minimal stirring.
Garnish with fresh chopped coriander.
Put the ginger julienne on top.
Serve it with Naan, Rice or Roti

You can also deep Fry Gobhi pieces and Potato pieces first and then add it in the dish ( step 7) . If you are adding the already fried pieces of Gobhi and Potato then there is no need to cook it much. Just add the spices as explained and omit step 15.
Summary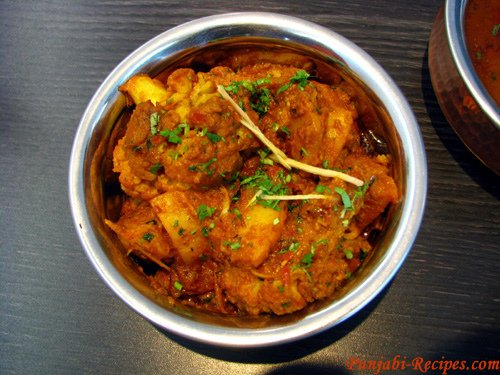 Recipe Name
Published On
Preparation Time
Cook Time
Total Time
Average Rating





Based on 2 Review(s)