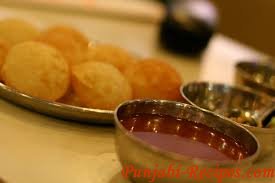 Text size
Print This Page
Send by email
Ingredients
For making Gol Gappa or Poori  (plural Gol Gappe)
Sooji (Semolina ) 1/2 cup
Maida (Plain Refined Flour) 1/2 tbsp.
Baking Soda 1/2 teaspoon
Salt to taste
Oil for Frying
For Spicy Pani or Spicy Water
Chopped Mint Leaves 1 1/2 cups
Chopped Coriander Leaves 1 tbsp.
Tamarind 1/3 cup
Ginger 1″
Green Chillies 4 to 5
Ground Cumin Seed (roasted) 1 tsp.
Kala Namak (Black Salt ) 1 1/2 tsp.
Salt to taste
For Filling
1. Boiled Potato, finely chopped /mashed and mixed with salt and red chilli.
For Red Tamarind Chutney
Tamarind 1 cup
Jaggery 1/2 cup
Sugar 2 tbsp.
Red chilli powder 1/2 tsp
Kali Micrch (Black pepper) powder 1/4 tsp.
Dry Roasted cumin powder 1 tsp
Cloves 2
Warm water 2 cups
Vegetable oil 1 tsp.
Salt to taste
Preparation
For Gol Gappe or Gol Gappa
Mix semolina, plain flour, Cooking Soda salt , 2 tablespoons of oil and knead well to make dough, leave it bit stiffer than normal.
Cover it with a wet towel and let it stand for 20 minutes.
Now make very small balls and roll them into small circles.
Remember not to make the circles bigger as they have to be eaten whole.
Remember to put the circles under a damp cloth as soon as you roll them.
Heat oil in a thick bottomed pan and then fry them.
The idea is to puff them like a sphere and fry them till golden brown.
Take them out and put them on kitchen paper towel, to get rid of the extra oil.
Let them completely cool down ( otherwise they will become soggy)before you put them into an airtight container.
For making spicy water or Pani
Soak the tamarind pulup in one cup of warm water for one hour.
Strain the tamarind residue out to get thick tamarind water. While straining in the strainder mash the tamarind with the help of a
spoon.
Put mint leaves, chopped coriander, ginger, chillies and dry roasted cumin seed.
Add a little water and mix to a smooth consistency using a blender.
Put this thick paste into ta jug and add fill the jug with water. ( Add the water slowly and taste the mixture and if you want to dilute
more then add water.)
Add salt and black rock salt to taste. ( Black Salt or Kala Namak is an important ingredient in this )
Put it in the fridge to cool down.
To make Red Tamarind Chutney
Remove the seeds from tamarind and soak it in warm water for one hour.
Meanwhile dry roast the cumin seeds and the cloves.
Pound them into coarse powder.
Now take the Tamarind pulp mixture , strain it and add jaggery, sugar, red chilli powder, black pepper powder, roasted cumin
powder, cloves and salt.
Put the mixture in a pan and heat for 5 minutes on medium heat.
Remove from heat and let it cool down.
Note that on cooling down it will thicken up a bit, consistency like thick cream is ok. otherwise you may want to add some warm water.
On cooling, blend the contents in a blender
Now how to eat it. Do I have to tell you
Not for the seasoned Pani Poori eaters.
But , yes if you haven't tried it before then it is quite an experience.
The ideas is to fill the Puri or Gol Gappa with spicy water and put it into the mouth. That is why I said do not roll the circle too big.
Poke a small hole in the center of the Gole Gappa ( or Puri).
Add some mashed boiled potato small quantity of mashed fried potatoes as filling. Add a little Red Tamarind Chutney. Dip it in the spicy water ( or pour some spicy water in it)
Gulp it down :-)))
 
Summary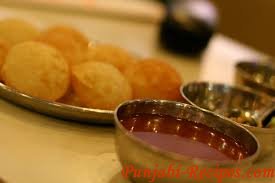 Recipe Name
Published On
Preparation Time
Cook Time
Total Time
Average Rating





Based on 9 Review(s)