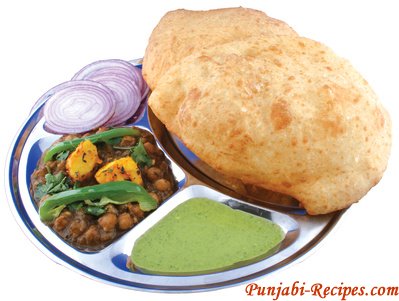 Text size
Print This Page
Send by email
Amrtirsari Choley Bhaturey (Curried Chick Peas with Fried Bread) is a signature dish in many punjabi restaurants. If you are visiting Amrtisar then this is the dish which you must try. It is quite rich and spicy and has a variety of flavours packed in it.
Ingredients
Ingredients for Choley
1 cup of Chick Peas (Kabuli Chana) (soaked overnight in warm water)
1 Onion (finely chopped)
½" piece of Ginger (Adrak) (grated)
1 teaspoon Garlic Paste
1 Anvla whole or 1 teaspoon Anvla Powder or 1 Tea Bag (optional – this is to give the black colour , as in restaurants )
½ tsp. of Cumin Seeds
2 tsp. of Red Chilli Powder ( to taste)
¼ tsp. of Turmeric Powder
1 tbsp. of Coriander Powder
1 tsp. of Cumin Powder
Salt (to taste)
2 tsp. of Chana Masala
2 tsp. of Dry Mango Powder (Aamchoor Powder)
2 tbsp. of Cooking Oil
1/2 cup Tomato Paste
Ingredients for Bhaturey
½ cup of Potatoes (boiled & grated)
½ cup of All-Purpose Flour (Maida)
Salt (to taste)
1 ½ tsp. of Cooking Oil
More Cooking Oil (for deep frying)
For Garnishing
1 Onion (sliced) ( soaked in Vinegar or Lemon juice)
4 Lemon Wedges
2 Green Chilli – finely chopped
Coriander – finely chopped
Preparation
Pressure cook the chick peas with theAnvla or Anvla Powder or Optionally use a tea tea bag for 3 whistles until they are soft. Drain and set aside. ( If using the tea bag then discard the tea bag).
Heat the oil in a pan, add the cumin seeds. When the seeds crackle, add the onion, ginger and garlic and sauté until the onion is golden brown.
Add the chana masala, red chilli powder, mango powder, turmeric powder, coriander powder, cumin powder and salt and sauté for another minute.
Add the tomatoes paste and saute for 2 minutes
Add the chick peas and 1 cup of water and mix well. Simmer for 10 to 15 minutes. And set aside.
Bhaturey
Combine the flour, potato, 1 ½ teaspoons of oil and salt and knead into a firm dough without using any water. Knead the dough very well until it is smooth. Cover with a wet muslin cloth and rest the dough for 10 minutes.
Divide the dough into 4 equal parts and roll out into circles of 125 mm. (5″) diameter.
Deep fry in hot oil until the bhaturas puff up and both sides are golden brown.
Serve hot with the cholay, sliced onion and lemon wedges.
Tip: You can also add some spiced Potatoe cubes or Paneer Cubes. Simply shallow fry some Paneer cubes or Potate cubes and add them to Chole after cooking
Summary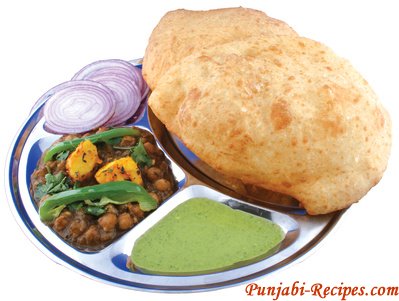 Recipe Name
Published On
Preparation Time
Cook Time
Total Time
Average Rating





Based on 18 Review(s)