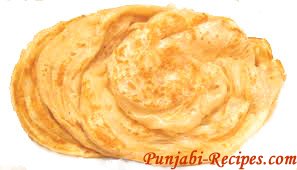 Text size
Print This Page
Send by email
Egg Parantha or Anda Parantha. High Protein and High Taste in all respects.
Ingredients
1/2 cup Refined flour (maida)
1/2 cup Whole wheat flour (atta)
1 Green chillies (finely chop)
1/4 medium bunch Fresh coriander leaves (finely chop)
2 Eggs
1/2 tsp Ajwain ( Carom Seeds)
1tbsps Butter
3 tbsps Oil
Salt to taste
Preparation
Take the Atta , Maida and sieve them into a mixing bowl.
Add the salt.
Break the eggs in a small bowl and add some salt in it and mix.
Now add this egg mixture in the flour mixture. ( keep a little egg mixture for later use)
Add the ajwain, green chillies in the flour mixture as well
Add the remaining egg mixture ( as in step 5) as well.
Make a soft dough now by kneading the flour mixture and add water as needed a little at a time.
Cover the dough with a moist cloth and set aside for an hour.
Divide the dough into two equal parts. Roll out each into four inches diameter disc.
Spread a little butter on each disc, sprinkle a little wheat flour and fold into four.
Roll out again on floured surface into six inches sized parantha.
Place over a heated tawa. When one side is half done, turn over and spread some egg and coriander leaves on the upper side.
Pour a little oil round the edges and turn over. Apply some egg and coriander leaves on the other side and shallow fry till both sides are evenly golden brown.
Serve hot with pickle of your choice.