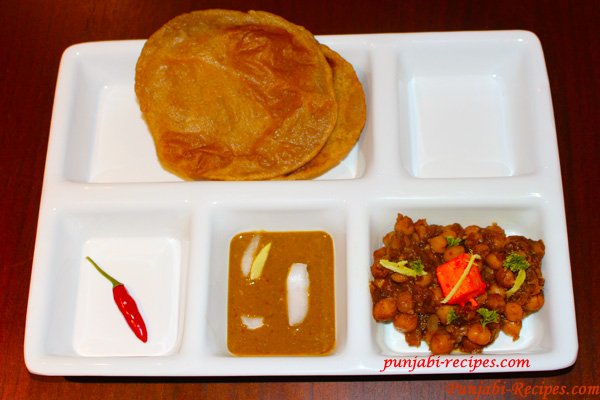 Text size
Print This Page
Send by email
Choley and Poori is all time favourite, it is sold as fast food in small shops which sell nothing but choley poori, you can also enjoy this any restaurant which sells punjabi food.  Chole is a yard stick of punjabi cousine. The restaurants are judged by their taste of Chole. Learn some techniques to make authentic Chole Poori. Make the Choley Masala described in this recipe to get restaurant quality results.
Ingredients for Choley
2 cup of Chick Peas (Kabuli Chana) (soaked overnight in water)
1 Onion finely chopped
1 Tomato finely chopped
1 tablespoon Ginger Paste
1 teaspoon Garlic Paste
1Â  Bayleaf(Tej Patta)
1 Black Cardamom (Kali Elaichi)
1 Tablespoon Tamarind Paste
1 teaspoon Mango Powder (Amchur)
Salt to taste
Ingredients for Choley  Masala
1 teaspoon Cumin Seeds
4 Cloves
2 Tablespoon Coriander Seeds
Choti Elaichi seeds 4 seeds
1 Star Anise
10 Black Peppers
Ingredients for Poori
1 Cup Atta.
1 Cup Water. ( Use the water as needed to make a tight dough)
Cooking oil for Deep Frying
For Garnishing
1 Onion (sliced) (soaked in Vinegar or Lemon juice)
Coriander – finely chopped
Preparation
Add salt in Water and pressure cook the chick peas. (If not using a pressure cooker then cook in a deep utensil with lots of water and put a lid on top).
Prepare the Chole Masala
Here is the secret of authentic choley which you get in the shops
Take a small fry pan
Add the Cumin Seeds
Add Cloves
Add Coriander Seeds
Add Choti Elaichi seeds
Add Star Anise
Add Black Peppers
Dry Roast till the Jeera becomes dark and you can smell the aroma and a bit of smoke.
Cool it off for 5 minutes and grind it to a powder in a spice grinder.
Prepare the Tamarind Pulp
Heat a cup of water and add the Tamarinds in it.
After few minutes of soaking, use a form to get the pulp out
Strain the pulp to get rid of the pips.
Prepare the Choley
Heat the oil in a pan
Add Bay Leaf.
Add Garlic Paste
Once the Garlic paste is cooked add the chopped onions.
Cook till onions are golden brown.
Add the tomotoes.
Stir till the mixture starts leaving the oil.
Add Ginger Paste
Add Red Chilli Powder
Stir Well.
Add the boiled Chickpeas.
You can add some water from the boiled chick peas also. Remember that these Choley do not have gravy so keep the water to
minimum.
Cover the pan with the lid and let the Choley cook for 5 minutes.
Now add the tamarind pulp.
Stir well.
Add the Chole Masala and stir for a minute, you would see that the colour of Choley isntantly becomes darkish.
Add Amchur(Mango Powder) – Remember that we do not dry roast the Amchur as it gets burnt taste.
Stir well to ensure that the Choley are not runny, let it cook further to bring it to the right consistency (Very little gravy).
Take it off the heat.
Note that if you have added salt during the boiling then there should not be any need to add additional salt while cooking.
Prepare the Pooris
Mix the Atta with some water to make a tight dough.
Keep it covered with a wet cloth for 10 minutes
Now make small pooris by taking some dough and rolling it using a rolling pin on a flat surface.
Deep fry them on high heat.
Serve hot with choley, sliced onion, Chutney or lemon wedges.
Garnish with some Ginger Juliens and coriander leaves.
A spicy chutney is a great accompaniment with it.
Summary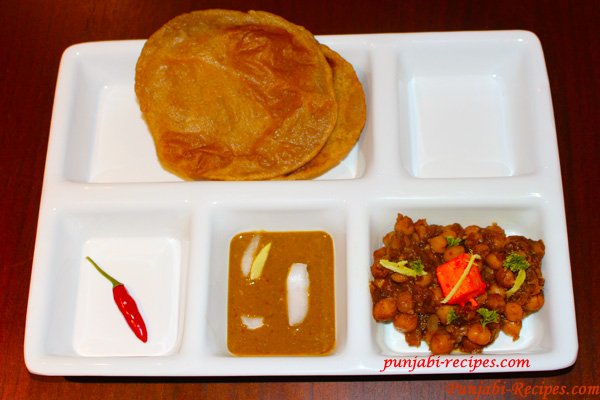 Recipe Name
Published On
Preparation Time
Cook Time
Total Time
Average Rating





Based on 2 Review(s)