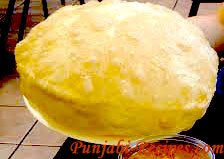 Text size
Print This Page
Send by email
Bhatura is a fried variety of Indian Breads. Bhatura is similar to Pooris, however Bhatura preparation is more elabroated, it uses Yeast.
Ingredients
5 cups white refined flour ( also known as Maida in Punjabi)
1 cup yogurt
1 tsp salt
2 tsps ghee
2 tsps sugar
1/2 tsp yeast OR 1 tsp baking soda
Preparation
Sieve the flour and salt together.
Mix the yeast with half a cup of luke warm water and keep aside for ten minutes.
Mix the ghee (clarified butter) and the sugar with the flour.
Add the yogurt and dissolved yeast or the baking soda.
Add little more luke warm if necessary.
Knead well until the dough becomes soft and pliable.
Cover it with a wet cloth and keep aside for four hours.
Heat the ghee in a frying pan.
Make small balls and roll them, spread a little with your palms to make it bit elongated ( tear shaped) and fry in hot ghee until golden brown.
Serve hot with "Channa" also known as "Punjabi Choley" (chickpea curry).