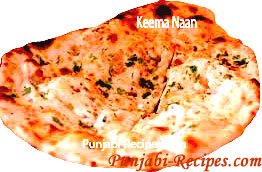 Text size
Print This Page
Send by email
Keema Nan -Naan stuffed with Lamb Mince
Ingredients
1.5lb Bread Flour
1.5 tsp Salt
3 oz Butter
1 Table spoon Caster Sugar
1 sachet Easy-Blend Dried Yeast
0.5 Small chopped onion
100 ml Yoghurt
2 tbsp Vegetable Oil
4 oz Minced Lamb
0.5 tsp Ground Cumin
0.5 oz Ghee or Butter
1 tablespoon Ginger paste
1 tablespoon Garam Masala
Preparation
Mix flour and salt; rub in the butter.
Take a small glass bowl ( do not use stainless steel or any metal utensil) , Stir in sugar ,salt and yeast put two tablesppons of warm water and let it settle for 10 minutes.
Now put the flour in a kneading pan , make a well in the centre and pour in yoghurt and add the mixture of yeast and water which you prepared in step 2 above.
Knead the dough.
Once done cover it with damp cloth and leave to rise in a warm palce for 1 hour or until doubled in size.
Meanwhile, heat the oil in a pan and fry the mince for 5 minutes. Add the onion,ginger paste and cook until softened.
Stir in the cumin, Garam Masala and a pinch of salt and cook for 2 minutes.
Now take the dough, it should have swelled up by now. Knock it back to remove the air.
Divide it into 6 equal portions.
Spread the dough ball into a flat surface, put three or four table spoons of the lamb mixture and roll the dough into a ball again.
Now carefully pat the flour ball into a tear shape by patting by fingers. ( You can also use the rolling pin to spread it out, I prefer to pat it by hands as it gives a better effect)
If the flour mixture gets sticky and sticks to the surface you can spread some dry flour on the surface first.
Once the tear shaped Naan is properly spread and rolled out. Sprinkle some sesame seeds on top.
Optional : You can also smear some garlic paste on the top of the Naan.
Turn the Grill to full. The secret of Tandoori recipes is that Tandoor is extremely hot, so that the Naan is suddenly exposed to high temperature.
Put the Naan in a greased tray, Keep the tray as near as possible the heating elements or the flame.
Once you see the slightly burnt marks appearing on the Naan change its side.
Once the other side is done take it out.
Remove from the grill, then brush with melted ghee.
Wrap in foil while you cook the rest.
Serve warm with Raita or plain yoghurt and pickle.