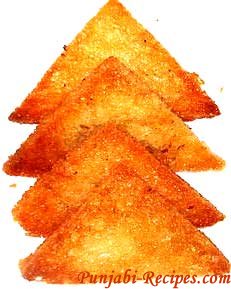 Text size
Print This Page
Send by email
Shahi Tukrey or Shahi Bread – A quick but tasty snack /dessert for the sweet tooth.
Ingredients
6 slices of white bread,
4-6 tbs sugar
Green Pistachios cut ( 20 nos)
Almond cut 20 Nos
Khoya ( Mawa ) 2 tablespoons
( If Khoya is not available then just use condensed milk)
Kevra Essence (optional)
Dry Cardamom Powder 1/4 teaspoon
Oil for deep frying the bread
Milk 1 litre
Saffron ( few threads)
Preparation
Cut each bread slice into four pieces.
Deep fry the bread pieces till golden brown and allow to drain on some tissue papers.
Take the warm milk and dissolve the saffron strands in it .
Now take a sauce pan and put it on medium heat.
Add all the milk in it and add the condensed milk or khoya.
Add the Green cardamom powder.
Add the dissolved saffron ( which you made in step 3)
Let the milk come to a boil and reduce the heat and let the milk thicken a bit.
After that add the fried bread pieces.
Do not turn the bread pieces too much otherwise the will dissove in milk.
Let the bread pieces soak the milk .
Remove from heat and allow to cool.
Sprinkle the kewra essence.
Garnish it with the cut pistachios and almonds.
Summary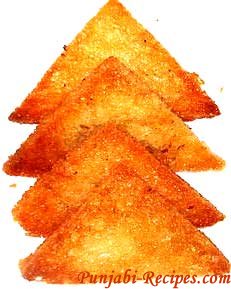 Recipe Name
Shahi Tukrey or Shahi Bread
Published On
Preparation Time
Cook Time
Total Time
Average Rating





Based on 1 Review(s)