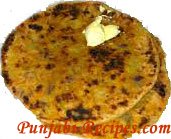 Text size
Print This Page
Send by email
Missi Roti is an all time favourite and is great for breakfast. Bit of Yoghurt and a dollop of butter !
Ingredients
Besan ( Gram Flour ) 2 cups
Atta ( Whole Wheat Flour) 3/4 cup
Onion 1 ( Medium ) chopped finely
Haldi ( Turmeric Powder ) 1/2 teaspoon
Fresh Coriander ( Chopped) 1/2 cup
Anardana ( Dried Pomegranate Seeds) 1 tbsp ( slightly crushed)
Chat Masala 1 teaspoon ( optional)
Red Chilli Powder 1/2 Teaspoon
Jeera ( Cumin Seeds) 1 teaspoon
Kali Mirch ( Peppercorns) 1 teaspoon
Cooking oil 2 tablespoons
Water 1/2 jug for kneading the dough.
Preparation
Heat a pan and dry roast Anardana, Jeera and Kali Mirch.
Once they start releasing the aromatic flavours,remove them from the pan.
Let them cool down and once cooled crush them in a mortal and pestle.
Take a mixing bowl and take the Besan and Atta and mix well.
Add Green chillies, chopped onion, salt, Haldi and red chilli powder.
Add some water ( the water is best added a little at a time while kneading)
Now add a teaspoon of oil in the dough and also add the spices which you dry roasted and crushed them ( step 3)
Knead this into the dough. (Add more water as required during the kneading process)
Cover and rest the dough for about 15 minutes.
Divide this dough into equal portions and roll into balls ( should yield 12 to 16 balls)
Now you are ready to make the Roti.
Roll this ball using a rolling pin, you can dab some dry Atta on this ball ( it is called the Peda) to avoid sticking. to the surface.
Heat a tawa and put the roti which you have rolled on the Tawa, let one side cook and then turn the side, apply some oil or Ghee or Butter on the cooked side.
Once the other side gets cooked turn it again and now apply the oil or Ghee or Butter on this side as well.
You may have to turn the sides again to cook both sides well ( until little dark brown spots appear on the roti)
Serve with Butter and Dahi ( Yoghurt ) . This makes an excellent breakfast.