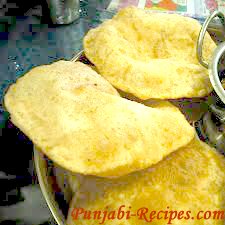 Text size
Print This Page
Send by email
Ingredients
Ingredients for the dough
2 teacups plain flour (maida)
2 teaspoons hot oil ( microwave for 10 secs)
½ tablespoon nigella seeds(kalonji)
2 pinchs of Salt
Ingredients for the masala poweder for the stuffing
1 tablespoon coriander seeds ( Dry fry them on a dry hot pan)
1 tablespoon cumin seeds ( Dry fry them on a dry hot pan)
1 teaspoon aniseed (saunf)
8 black peppercorns ( Kali Mirch)
4 large red chillies
Ingredients for the actual stuffing
¾ Tea cups of Black Gram ( Urad Dal)
2 tablespoons of Oil
Salt to taste
For Deep Frying
Oil or Ghee
Preparation
Preparing the dough
Take a mixing bowl.
Add 2 cups of Maida ( Plain Flour)
Add 2 teaspoons of hot oil ( microwave for 10 sec)
Add the Nigella Seeds.
Add 2 pinches of Salt.
Add some water and knead it into a stiff dough.
Leave this dough aside for settling for 20 minutes.
Preparing the Masala
Take the dry roasted Coriander seeds, Dry Roasted Cumin Seeds, Saung, Peppercorns, red chillies and grind them into a fine powder.
How to make the stuffing.
  Soak the Urad Dal in water for 4 hours.
  Drain the water once done.
  Grind this Urad Dal in a coarse paste in a grinder , use little bit of water as needed.
  Take this lump of Urad Dal paste and fry it in the oil.
  Take out of the frying pan.
  Let it cool
  Add the Masala Powder prepared above and add the salt as well.
  Mix well.
Next Steps
  Now take the dough and make small balls.
  Roll the balls into a roud shape using a pin and roller.
  Put some stuffing in the middle.
  Fold the edges to cover the stuffing completely and roll out again into small pooris.
  Deep fry the poories in hot oil.
Serve with yoghurt or any vegetarian dish.