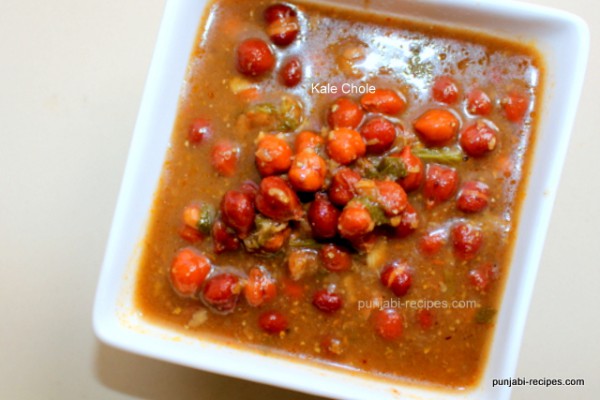 Text size
Print This Page
Send by email
Kale Chole or Kale Chane is a high protein food and is an excellent source of protein. I remember my mother preparing Kale Chole each saturday for dinner or lunch. You can have it with gravy or make a dry dish without gravy.
Ingredients
Black Chole 1 Cup
Onion finely chopped 1 large
Tomatoes 2 finely diced
Green Chillies 2 finely chopped
Garlic Paste 1 teaspoon
Ginger Paste 1 tablespoon
Jeera (Cumin Seeds) 1 teaspoon
Jeera Powder 1/2 teaspoon
Dhania Powder 1 teaspoon
Yoghurt (Dahi) 4 tablespoons
Red chilli Powder 1/2 teaspoon
Garam Masala 1/2 teaspoon
Tej Patta(Bay leaf) 1
Salt as per taste
Water 1 jug
Oil for cooking – 4 tablespoons
Preparation
Kale Chole needs to be soaked overnight if possible.
Wash the Kale Chole
Put it in the pressure cooker and add lots of water in it. (atleast 6 cups)- the water can be easily adjusted while cooking.
Add salt in the water also, as this will help to soften the Kale Chole.
Leave it overnight or for atleast 6-8 hours.
Put the Cooker with the lid and whistle on and boil the Kale Chole for 20 minutes and then do not open the whistle, let them cook
further under pressure.
Let it cool down before opening.
Meanwhile take a heavy bottomed pan and put it on medium heat.
Put 3 tablespoons of oil.
Add Jeera (Cumin Seeds) and stir for a minute.
Add the Bay leaf.
Add Garlic Paste and stir for a minute
Add the finely chopped onions.
Fry the onions until golden brown.
Add the green chillies and stir for a minute
Add diced tomatoes( you can add tomato puree as well by just blending the tomatoes)
Now add Haldi, Turmeric
Add one tablespoon of Dahi and stir for a minute until the Dahi is completely cooked and mixed well with the mixture
Add the remaining Dahi ( one table spoon at a time) and stir well.
Now add red chilli powder and stir for a minute.
Add the Jeera Powder
Add the coriander Powder
Stir for a minute.
Now you can put all this fried mixture into the pressure cooker which has the boiled Kale Chole
Using a ladle mix it together
Put the pressure cooker on medium flame (do not put the lid)
Let the mixture boil for 5 minutes
Reduce heat and let it cook for another 5 minutes.(Check if Kale Chole are fully soft).
Sprinkle some Garam Masala and stir.
Take it off the heat.
While serving sprinkle some finely chopped coriander leaves on top. Serve with rice or roti.

You can also add some butter or Ghee in Kale Chole while serving.
Summary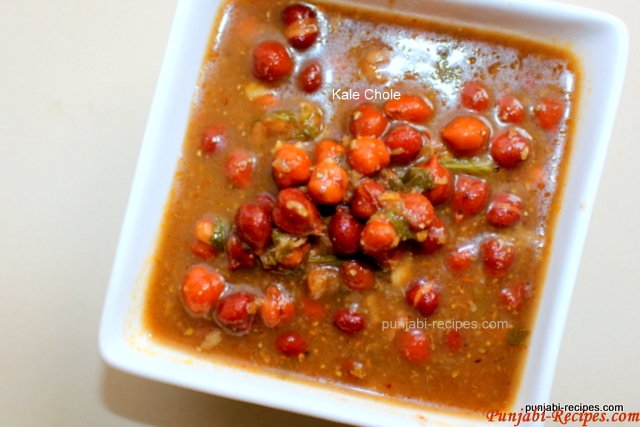 Recipe Name
Published On
Preparation Time
Cook Time
Total Time
Average Rating





Based on 3 Review(s)