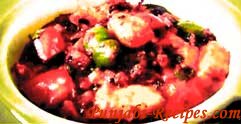 Text size
Print This Page
Send by email
Punjabi Kadai Paneer (Cottage Cheese with Capsicum)
Kadai is the traditional  Indian wok. The recipe traditionally is cooked in the restaurants on a wok. As there is not much gravy needed. The capsicum and other ingredients are quickly fried in the wok .
Authored by Rosie
Ingredients
Paneer (Cottage Cheese) 500 grams
One Green Capsicum
Ginger paste 1 tea spoon
Coriander seed powder 1 teaspoon
4 red chilies
1 tsp. kastoori (dried fenugreek leaves) methi
2 chopped green chilies
4 chopped tomatoes
1/2 bunch coriander chopped
4 Table spoons oil
Salt to taste
Preparation
Dice the paneer in small cubes.
Slice capsicum in thin strips.
Heat the oil in a pan.
Add the garlic paste and cook on a slow flame for a few seconds.
Fry the capsicum pieces and add the chilly powder and then the coriander powder.
Add the green chilies and ginger paste.
Add the diced tomatoes and cook until the oil starts separating from the mixture. This is an indication that the mixture has been
cooked well.
Take the dried kasoori methi and add it by rubbing with your thumb and finger as when you rub it, it release more flavour.
Add salt to taste.
Finally, add the sliced paneer and cook for a few minutes. Sprinkle coriander on top and serve hot.
Serve it with Naan, Rice or Roti
Tip:
If you wish to add the Heeng (Asoeftida) flavour to paneer cubes then use the following method.

Take a thick bottomed and heat it on full heat. Quickly thrown all the paneer cubes on the sides leaving the middle of the pan empty.
Pour one tea spoon of oil and sprinkle 1/2 teaspoon of Heeng powder.
You should see the smoke coming out from the oil. Cover the pan immediately. Remove it from the heat. Leave it covered for few seconds or a minute.
Once you open the lid the flavour of heeng would have gone into your paneer cubes.
Add these paneer cubes into the mixture as described in Step 11 above.
Summary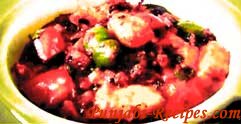 Recipe Name
Published On
Preparation Time
Cook Time
Total Time
Average Rating





Based on 0 Review(s)