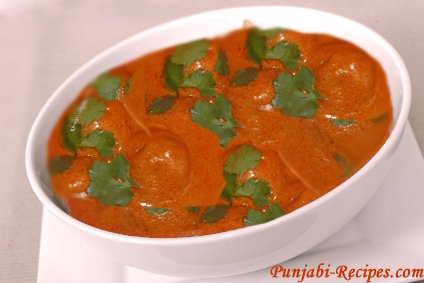 Text size
Print This Page
Send by email
Malai Kofta – Sift dumplings made from Potato and Paneer( or Mawa) mixture in a rich cream sauce
Ingredients
For making Gravy
125 gms. cream
75 gms. khoya or paneer
50 gms. cashewnuts
3 tsp. white pepper powder.
2 1/2 tsp. sugar
2 tsp. grated ginger
1/4 tsp. nutmeg powder
1/2 tsp. turmeric powder
1 tsp. garlic crushed
1″ cinnamon
6 cloves
6 cardamoms
salt to taste
3 tbsp. ghee
Onion paste 1/2 cup
Tomato puree 1 cup
For making Malai Kofta(dumplings)
50 gms. khoya
50 gms. paneer
5 medium potatoes
20 gms. cashewnuts
20 gms. raisins
4-5 green chillies chopped fine
1/2 tsp. ginger grated
1 tsp. coriander chopped
1/2 tsp. cumin seeds
salt to taste
For Garnishing
1 tbsp. grated cheese or paneer
1 tbsp. chopped coriander
Preparation
Kofta(dumplings)
1. Boil the potatoes, peel and  mash them when cooled.
4. Flatten. Place 2-3 cashews and raisins in the center and shape into a ball (or a cylinder shape.)
5. Repeat for remaining dough. Keep aside.
6. Deep Fry these dumplings and keep aside to cool.
Gravy:
Roast the cinnamon, cardamom, nutmeg and cloves together.
Dry grind and keep aside.
Heat ghee in a skillet, add  the spices which you have roasted and powdered in the above step.
Add garlic paste and stir for 1 minute.
Add onion paste and fry for 5-7 minutes stirring well.
Once the onion paste has cooked and turned golden brown .
Add  turmeric powder.
Add red chilli powder.
Add  the tomatoe puree.
Cook until it starts leaving the oil.
Add some water to reduce the consistency of gravy.
Bring it to boil and reduce  the heat to minimum.
Add the ginger paste now
Let it simmer for about 15 minutes till the consistency of the gravy is just right. ( should not be very watery)
Now add the koftas very gently and stil softly.
Add salt as per taste.
Let it simmer for another 5 minutes until the kofta have mixed well in the gravy.
Add some cream
Garnish with grated cheese and chopped coriander.
Serve it with rice, roti or naan.
The koftas can also be baked in the grill instead of deep frying.
You can also freeze the koftas(dumplings) in the freezer and use them later.
Summary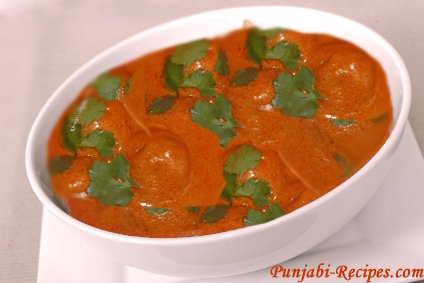 Recipe Name
Published On
Preparation Time
Cook Time
Total Time
Average Rating





Based on 8 Review(s)