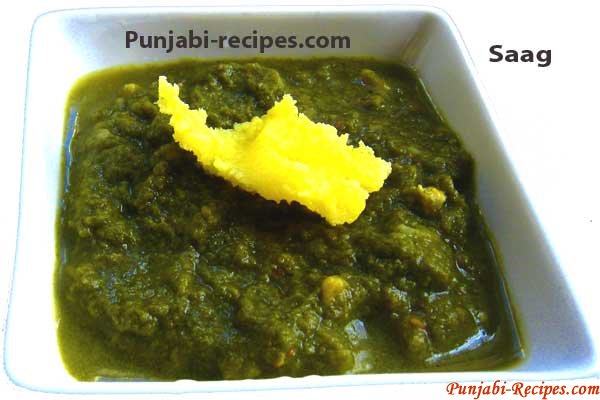 Text size
Print This Page
Send by email
Sarson Ka Saag is a signature punjabi dish. A well made Saag on slow heat is delight . Saag is also very rich in Chlorophyll.
Ingredients
A Bundle Sarson Ka saag(Mustard Leafs) about 250 grams
1 Onion finely diced
1 teaspoon Garlic Paste
1 Tablespoon Ginger paste
1 teaspoon Haldi or Turmeric Powder
Desi Ghee 2 tablsepoons
1/2 teaspoon red chilli powder
1 teaspoon Garama Masala
1 tablespoon Maki Ka Atta (Atta made from dried Corns. The atta is yellow in colour. Do not confuse it with cornflour)
Salt as per taste
Preparation
Soak the Saag in Water for about 05 mins, drain & wash every leaf, so that there is no mud in the stem.
Cut the Saag in small pieces so that it can fit in the Pressure Cooker
Add half of the Garlic paste and half of the Ginger Paste
Add salt.
Add 1 tablespoon of Ghee
Put the pressure cooker on medium fire and let the Saag cook for 15 minutes. (There is no need to add any water as Saag has plenty of moisture and the added salt will help extract the water)
Now take a small fry pan and put the remaining Ghee
Add the remaining Garlic Paste
Stir for 10 seconds
Add the diced onion
Stir for few minutes until the onions are golden brown.
Add red chilli powder
Add turmeric powder
Add Garam Masala.
Add 1 tablespoon of Maki Ka Atta (or Besan if you can't find Maki Ka Atta).
Stir well to ensure that there are no lumps formed.
Let the Saag cook for 10 minutes on slow heat.
If you feel it watery then let it cook further on slow heat.
Traditionally not too much spices are added except Garam Masala.
This is traditionally eaten with Maki Ki Roti.
You can also have it with roti, naan and rice.
TIPs: You can also added some paneer cubes in it. Just throw them in the last step of the cooking.

Serve it with a dollop of Ghee on top.

It does not need any other garnishes.
Serve along with Indian Bread or Steam Rice
Summary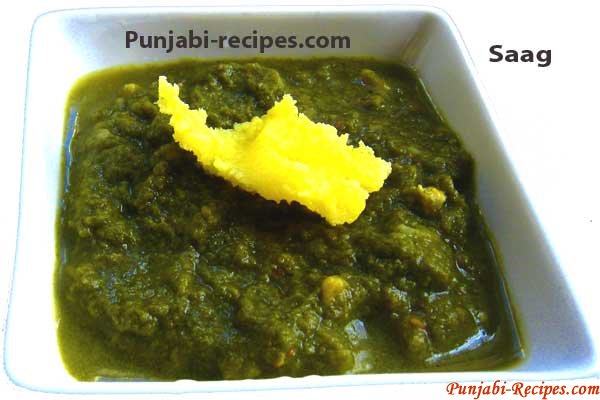 Recipe Name
Published On
Preparation Time
Cook Time
Total Time
Average Rating





Based on 1 Review(s)