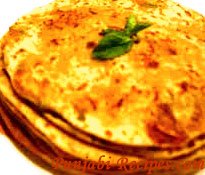 Text size
Print This Page
Send by email
Besan Parantha or Besani Parantha – contains Besam pr Gram flour which is high in protein. It is a great alrounder. Enjoy it with bit of butter and Lassi.
Ingredients
Besan ( Gram Flour) 1/2 Cup
Atta ( Wholemeal Flour) 1/2 Cup
Hing (Asafoetida) 1 pinch
Red Chilli Powder 1/2 Teaspoon
Jeera ( Cumin Seeds)
Salt to taste
Coriander – finely chopped
Cooking Oil 4 tablespoons
Finely chopped Onion – 1 Medium sized.
Preparation
Mix the Besan and Atta together in a mixing bowl.
Add the Chilli Powder, Turmeric Powder, Asafoetida, Cumin Seeds, Coriander and the Chopped Onion in it.
Make a dough using little warm water.
You can add about 1 Tablespoon of oil in the dough in a square shape ( roughly)
Once it is rolled spread some oil on it.
Fold all the sides and you would end up with a folded square in your hand.
Roll this small square again into a bigger square.
Put this paratha onto a heated Tava or Pan.
Once one side is cooked change its side and brush some oil on the already cooked surface.
Once the other side is cooked change the side again and brush the oil on the second side as well.
Let it cook further and change sides ( The idea is that once you apply the oil to a side, it must be cooked again to give you the crispiness.)
Enjoy it with a some butter and Yoghurt(Dahi) and the best drink with this will be a tall glass of lassi.