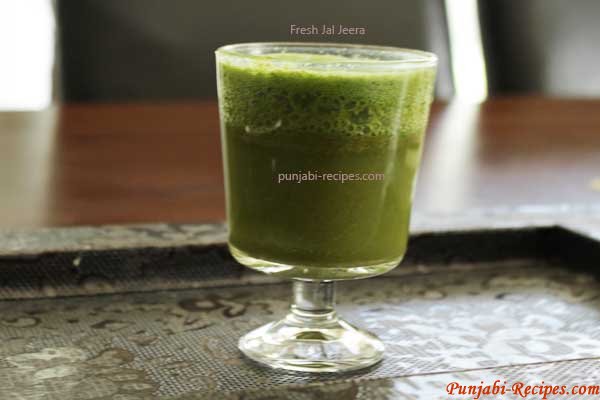 Text size
Print This Page
Send by email
Jal-jeera, or jaljira, is an Indian beverage. Jal Means Water and Jeera means Cumin. You can mix this in Water to get Plain JalJeera or you can add it to Soda Water to get a spicy Fizzy Drink, which will twist your taste buds to new height of culinary spicy delight.
Jaljira powder generally consists of cumin, ginger, black pepper, mint, black salt, some fruit powder (usually either mango, or some kind of citrus zest), and chili or hot pepper powder. You can easily buy it from and Indian Grocery Shops but you never know what you get in a any readymade food product or especially the spices. So go ahead and try it out, experiment and suite it according to your families taste.
The cumin is a medicinal ingredient which aids digestion.
Mint(Pudina) also has digestive properties and also has a cooling effect on body.
Black salt(Kala Namak) is a digestive as well and used in many Ayurvedic digestive medicines.
Jaljeera is very popular in northern India especially in summer due to its cooling properties.
Serve it at home as an appetizer before a meal or drink. You can add sugar in it as well if you like the sweet and spicy flavour.
The dry powder which you get in the shops contain Citric Acid to make it tangy and you know that is not good for your health. So try this fresh at home, the taste will be better and you will reap the health benefit as well.
Ingredients
1/2 cup Mint leaves (only use the leaves, discard the stems)
1/2 cup Fresh Green Coriander Leaves (only use the leaves, discard the stems)
50 grams of Ginger
1 Teaspoon Cumin seeds
Black salt To taste
1/2 tablespoon Dried mango powder/Amchur
1 tablespoon of Lime or Lemon Juice
Pinch of Sugar
2 cups of Chilled water
Mint Leaves for garnishing
Preparation
Take a pan and put it on low heat
Add the Cumin Seeds and dry roast them for few minutes on. They will turn dark and would have a very nice aroma.
After cooling down grinding it to fine powder in a spice grinder.
Take a high speed blender
Add Mint leaves, Coriander leaves, Ginger, Lime or Lemon Juice and make a paste (you might have to add some water to aid the grinding process)
Add Amchur, Black Salt and Sugar and add it to the paste and blend for few seconds in the blender.
Now add 2 tablespoons of this paste in a glass and fill it up with water and mix thoroughly.
You can add some more finely chopped Mint Leaves on top
See the below picture for ingredients ratio
Summary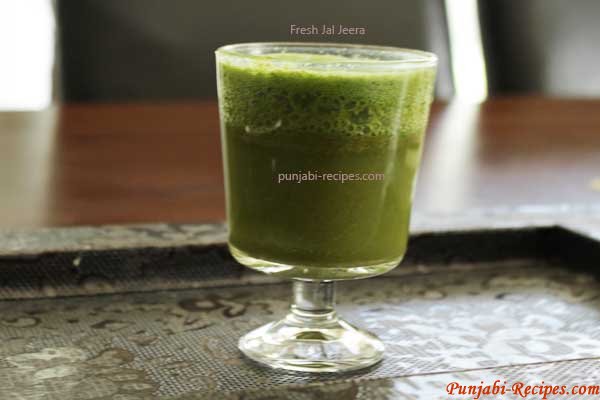 Recipe Name
Published On
Preparation Time
Cook Time
Total Time
Average Rating





Based on 2 Review(s)