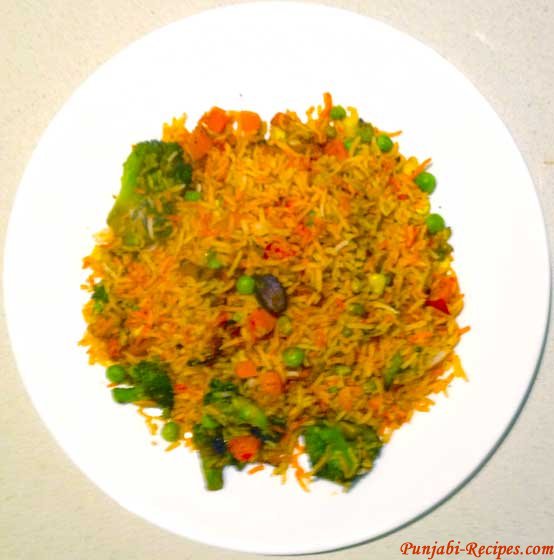 Text size
Print This Page
Send by email
Quick Vegetable Fried Rice – use fresh rice or the left over rice to quickly churn up a tasty meal in  10 minutes.
Ingredients
2 Cups of Basmati Rice
1 Carrot – cut in fine juliens
1 Tomatoe diced
1 medium Onion – sliced
1/2 Green Capscicum – Sliced
1/2 Red Capscicum – Sliced
1/2 Cup Cauliflower florets
1/2 Cup Brocolli Florets
Oil 2 tablespoons
Salt to taste
Green Chillies 2 sliced
Any nuts (like cashews, pine nuts, pumpkin seeds ) 2 tablespoons
Green Coriander 2 tablespoons – finely diced
Red Chilli Powder 1/2 teaspoon
Soya Sauce 2 tablespoons
Lime Juice 2 tablespoons
Sugar 1 teaspoon
Black Pepper a pinch
1 teaspoon Garlic paste ( or finely chopped )
1 tablespoon Ginger Paste ( or finely chopped)
Preparation
Wash the rice and cook them in a rice cooker (use a bit less of the water ). You can also use the left over rice. Infact the recipe comes out better with the left over rice as they are dry.
Take a Non Stick fry pan and add some oil and heat.
Add the garlic and stir.
Add the cauliflower florets and cook.
Add Broccoli Florets and cook.
Add all the remaining vegetables and cook.
Add some soya sauce and stir.
Add the ginger paste.
Add the green chillies.
Add the tomato pieces( the tomato helps make the rice nicely moist and of course tasty)
Add the sugar and stir( optional but gives a nice taste)
Sprinkle some black pepper and salt as per taste and mix.
Now take the cooked rice ( I leave the cooked rice in the the rice cooker on warm)
Add add the lime juice in the rice and stir.
Add all the cooked vegetables in the rice and stir.
Add the nuts and stir.
While serving add the chopped green coriander on top.
Tip 1 : Use lesser quantity of water while cooking the rice for this dish in the rice cooker will ensure that the rice is separate and dry. Too much water will make the cooked rice mushy.

Tip 2 : You can add in some lime peels in it. Just grate a little bit of peel from an uncut lime . Gives a very nice tangy taste and smell.

Tip 3: You can use some curry leaves while cooking the vegetables,

Tip 4: If you really like it hot then you can add few peper corns during cooking of the vegetables.

Tip5: You can add in some white vinegar or balsamic vinegar

Tip6: To cook it really fast I use Rice cooker to cook the rice and use the microwave to pre cook the vegetables to reduce the cooking time.
Summary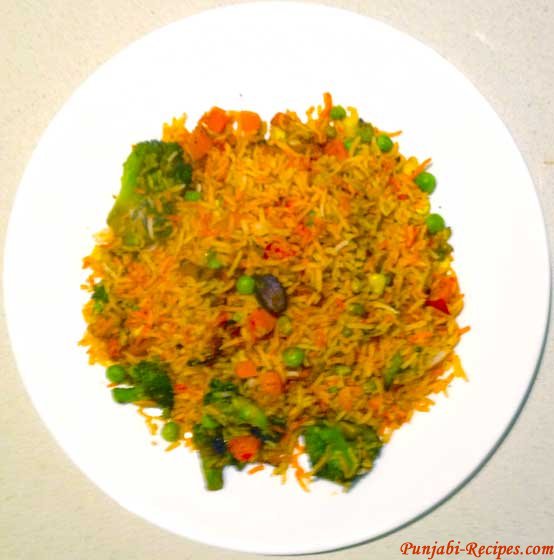 Recipe Name
Quick and Easy Vegetable Fried Rice
Published On
Preparation Time
Cook Time
Total Time
Average Rating





Based on 2 Review(s)