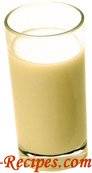 Text size
Print This Page
Send by email
Prepare this highly nutritious Almond Milk. It is a high protein energy packed drink which is out of this world.
Ingredients
20 almonds
20 Pistachios
2 glasses milk
1 cardamom crushed
1 tablespoon sugar
2 drops rose-water
Preparation
Soak the almonds and pistachios in water for 4-5 hours.
Peel off the almonds.
Grind the almonds and pistachio into a paste by mixing small milk , to get a fine consistency.
Heat the milk and add the almond and pistachio paste.
Add some cardomom powder for flavour.
Add sugar to taste.
It can be served hot or cold.
If serving cold you can also add Rose Syrup in it.