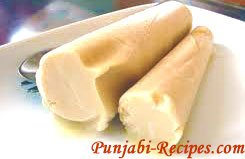 Text size
Print This Page
Send by email
This is the best Kulfi which you can make at home, this will not be so hard (the biggest problem with home made kulfi is that they become very hard and have the ice crytals when you have a bite. This is due to the water content left in the milk which becomes ice when frozen. If you use the evaporated milk then that problem is taken care of.
This can be prepared in 5 minutes flat.
Ingredients
Evaporated Milk – 1 CAN ( This is the liquid milk which is thickened, not the Condensed milk) – Nestle Carnation is one brand which you can use.
1 teaspoon of Corn Flour
4 Tablespoons of Sugar
chopped Pistachios
chopped Cashews(raw) – don't use the roasted or salter cashews
chopped Almonds
Rose Water or Kewra Water few drops
Preparation
Take a small bowl and take 2 tablespoons of the evaoprated milk .
Add 1 teaspoon of Corn Flour in it and mix well so that no lumps are left. ( DO NOT USE ANY WATER)
Now take a sauce pan and put it on medium heat.
Add all the evaporated milk in the sauce pan.
Add the Cornflour disssoved in the milk as in step 2.
Add the Sugar
Let it warm for about 3 minutes ( We are not boiling it )
Remove the pan from the heat.
Let the evaporated milk cool down.
Take any mould you have and pour this mixture in the.
Now add the cut dry fruits in it.
Put it in the Freezer for 2 hours.
When serving take it out and sprinkle some Rose Water or Kewra Water.